Haunted Kentucky, Tales of a Conduit

Haunted Kentucky, Tales of a Conduit
Now Available!
Gas up the car and prepare to hit the road for a haunted tour of Kentucky. Whether you are exploring the dark, dank cave where an insane asylum stacked the bodies of the dead or wandering the antebellum mansion where the owner still greets guests more than one-hundred-and-sixty-years later, you are in for a spine-chilling good time.
Author Terri Grimes offers up first-hand accounts of her encounters with spirits of the Bluegrass state, backed up with amazing photographs of apparitions, ghost lights, orbs and other anomalies. From the family pets taking one last ride, to the ghostly driver sitting behind the wheel at the insane asylum, to the antebellum mansion's dearly departed hostess taking a peek in the equipment case; the pictorial evidence will astound even the skeptical.
If you've ever heard your name called in the night, felt a chill travel the length of your spine as you pass a graveyard or seen a glimpse of a loved one years after they've passed, then you too may have traveled the path of a Conduit. Walk the path again with Haunted Kentucky, one tale at a time.
eBook version now available;
Haunted Kentucky: Tales of a Conduit by Terri Grimes
https://www.smashwords.com/books/view/418050
Print version available at
https://www.createspace.com/4673394
Print version ISBN-10: 149596678X
Print version ISBN-13:978-1495966781
_________________________________________________________________
Now I Lay Me Down To Die


As Hunters Hollow's newest resident, Abby Morgan has an uncanny ability to hear the dead, whether she wants to or not. Little did she know when she moved into the stately Victorian, it came complete with it's own built-in ghost, the former owner, Duke Rivers. Having died thirty years prior under suspicious circumstances Duke needs Abby's assistance in resolving his final affairs so he can cross over into the light. Teaming up with his hunky nephew, Owen, finding Duke's killer seemed like a good plan at the time until they uncover some of the local town secrets that could blow Hunters Hollow wide apart.
Click here to purchase a

print copy

of

Now I Lay Me Down To Die

!
Click here to purchase an

ebook copy

of

Now I Lay Me Down To Die

!
ISBN: 1456309986 (Paperback)
EAN-13: 9781456309985 (Electronic)
_________________________________________________________________
Shake Rattle and Haunt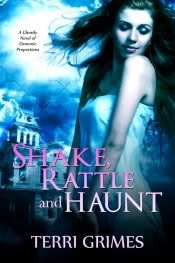 Gertie Sugarbaker can no longer live in the same house with the inappropriate ghost that has been menacing her for the last two months. After being groped one time too many by the errant entity, she finally does it. She makes the call and hires Sam Valentine,owner and lead investigation of Indy's premier ghost hunting group, Urban Ghost Hunters aka UGH. It might have been helpful to Sam to know that the "ghost" was actually a third level demon, intent on dragging Gertie back to hell with him and making her his demon princess.
Click here to purchase a copy of
Shake Rattle and Haunt
_________________________________________________________________
Ring Around the Rosary is the haunting tale of a star-crossed pair of paranormal investigators making their way, one floor at a time, through Louisville's famed Waverly Hills Sanatorium. Together, with the help of self proclaimed Waverly Hills expert, Stanley Moon, and Lilly, the spirit of an 8-year-old girl, they find what's hiding on the 4th floor preventing more than 60,000 souls from crossing over into the light. And what's scarier is it's found them too!
Available 2016
_________________________________________________________________
What's a working gal to do when a crazed lunatic bearing a wooden stake attacks her when she goes to her new clients home? Yup, it's all fun and games till someone wakes up dead.
Available in 2016